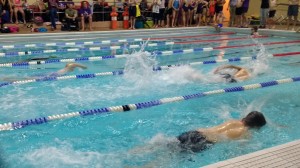 On February 25th , RLSS Poole hosted the second of the 2016 PBCLSA Indoor Twilight Series.
Well Done to all that turned up to take part in the PBCSLA Indoor Twilight last night, mega turn out, over 104 competitors competed last night which is great 🙂
Even better was seeing Poole at the top of the results tables.
So well done to
Poole A (Juniors)-1st place.
Poole A (Open)-1st Place and
Poole A ( Masters)-2nd place.
It was really good to see so many Poole Teams taking part.
Thank you to all the people that helped out with the running of the event as well as those who turned up as supporters.
The final one of the 2016 series is being hosted by Christchurch at the 2Riversmeet Pool on 12 March starting 18:00hrs. See you all there.