We regularly take part in local lifeguard competitions like the Bournemouth Lifeguard Annual Regatta and the PBCLSA Twilights Series (Beach and Pool series).
There are also various speed competitions and lifesaving skill competitions aimed at all ages, including individuals (over 16yrs) and for pairs (under 16yrs).
The club has been very successful at competitions in the past and we have been crowned the RLSS UK's National Lifeguard champions on at least two occasions, as well as a number of our members competing for the RLSS-UK.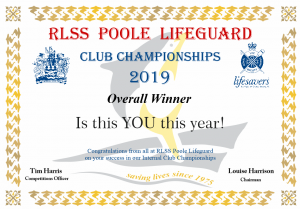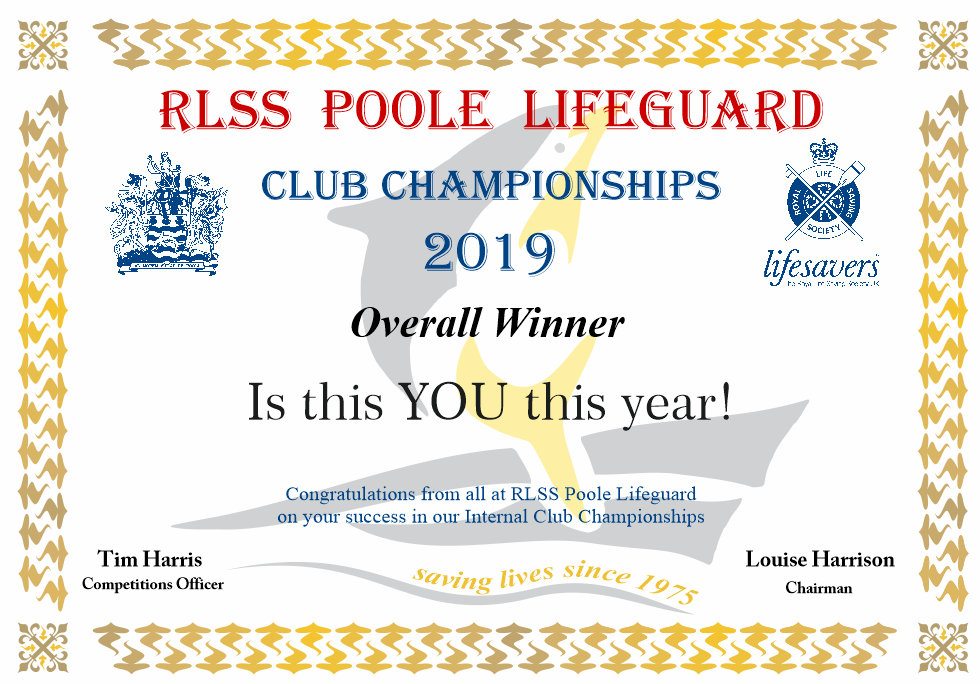 Aim of the Competition :
To engage all members of our Club in a test of knowledge, skills and sport.
It is open to all members, and each competitor will be competing against his or her peers.
At the end, an overall Club champion will be crowned. It will be run over two weeks.
Competition Structure :
There are three Zones, "Knowledge" "Skill" and "Sport".
There are two events in each zone.
From these 6 events, members can nominate 1 event as a Trump card which will earn double points.
Events:
KNOWLEDGE ZONE: "Life Saving Questionnaire", "Life Support Questionnaire"
SKILLS ZONE: "Resuscitation",  "Rope Throw"
SPORTS ZONE "Manikin Tow", "Swim with Gates"
Age categories :
U12, U15, U18, Seniors, Masters (40+) on date of competition
Rules :
This event is meant to be fun, and in the spirit of fair play; any toys that are thrown out of the pram / pool will have to be collected and apologised for.
Cheating will not be tolerated (this includes biting, foot stamping, dunking and pulling of hair!).
We reserve the right to amend flexible rules, but only after approval by the Competition Referee.
The Competition Referees decision is then final.
PBCLSA Indoor Twilights
DATES AND EVENTS
Click here for further details of dates and events from the PBCLSA website.
CATEGORIES
Age groups are defined by the age of the competitor on the 1st of September of the current year of competition. Eg:- a competitor who is 16 years old either on or before the 1st September will compete in the Open section.
12 – 15 years old – Juniors
16 years and Over – Open
40 years and Over – Masters
TEAM MAKE UP
A competitor can only participate in one category per Indoor Twilight
ALL teams to comprise of at least 1 member of the opposite sex. (i.e. mixed teams).
Teams comprise of max of 4 members.
Junior and Master Teams must consist of members within their age group.
A Master and/or a Junior competitor may compete in the Open Category, however
note 1st rule above.
SCORING
Only the top two teams from each category will score points for their club towards
the overall category and overall club scores. Thus a max of 6 team scores per club.
ENTRY
Each Club will be required to submit an entry form to the host club 2 weeks prior to
the event indicating how many teams will be taking part.
There is a £2 fee per competitor which will be collected by the Host Club.
REGISTRATION
On the evening, each competitor will be required to register and have a mark place
on their hands to indicate that they have paid the £2 entry fee.
DIVING
For the 2012 series of Indoor Twilights there will be no Diving from the pool side or
from racing blocks, all start will be from within the water.
PBCLSA Summer Twilight Series
This is a fantastic event that we urge all our members to take part in and enjoy the camaraderie  of competing against fellow peers from different local clubs.
Use the link below to keep up to date with all the info required for the Summer Beach Twilight Series
http://www.pbclsa.org.uk/twilightinfo.htm
use this link to see last years Summer Twilight Results
http://www.pbclsa.org.uk/twilightresultsummary.htm
Follow this link to the RLSS Life Saving – UK COMPETITIONS Home Page for further details.
A brief description can be located below.
RLSS UK National Lifesaving Championships
The Championship is made up of four events; Aquatic Initiative Test; Life Support Initiative Test; Swim and Tow; Line Throw. (The initiatives are developed using only the skills in the Survive & Save and Life Support Manuals).
Aquatic Initiative Test
Competitors will have 90 seconds to respond to an Aquatic Initiative Test, which will test their assessment of the situation, their lifesaving skills and their after rescue treatment.
Life Support Initiative Test
Competitors will have 90 seconds to respond to a dry simulation to demonstrate emergency first and casualty care.
Swim and Tow
Competitors enter the water, swim to their team mate who they then tow to the designated finishing point.
Line Throw
The competitor has to coil a rope, throw it out to a team mate and pull them back in.
RLSS UK National Club SERC Competition
The RLSS UK National Club Simulated Emergency Response Championship (SERC) is an event open to all RLSS UK affiliated organisations.
Each affiliated organisation shall be entitled to nominate teams for the Championship. Restrictions as to maximum numbers of teams per club will be at the discretion of the organisers and dependent on number of entries.
A team will consist of four members of either gender or combination. There will be two separate age groups in the competition. All team members must comply with the age restrictions on the day of the competition. All team members must be bona fide members of the affiliated organisation.
All competitors shall be in current individual membership of RLSS UK at the time of entry and on the day of competition.
Junior section
All team members must be between the age of 14 and 17 years at date of competition.
Senior section
All team members must be 17 years or over at date of competition.
Subjects and Marshals
A requirement for entry into the SERC is that each entering team MUST provide one individual member to act as a subject and one individual member aged 16 years or over to act as a marshal throughout the competition. (No exceptions will be made).