Location
Beach Training will take place at Sandbank.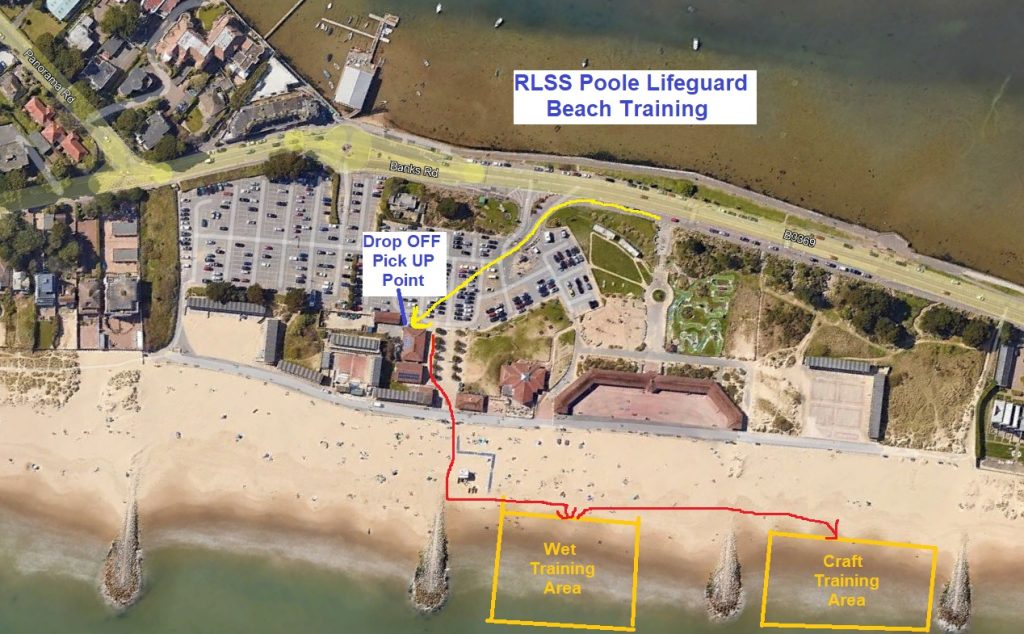 ---
IMPORTANT DOCUMENTS
02:09
–
Low
Tide
(
0.94m
)
06:52
–
High
Tide
(
2.14m
)
14:36
–
Low
Tide
(
0.89m
)
19:22
–
High
Tide
(
2.03m
)
---
Drop off and pick up location
Is located in the BCP compound directly straight in front of you as you come through the car park barriers.
Safe Guarding our members
Parents will need to come to the drop off /pick up point at our garages in the compound, indicated in the above image, in person to collect their children at the end of each session.
Please do not drop off on the road or in the car park and assume that the session is taking place. Take your child/children to the drop off point and hand them over to the club.

We do not want members being dropped off and left down there when no one is around due to the session being cancelled and you have not seen the WhatsApp messages etc

We will not allow our members to leave us after the session and walk to a car or out to the road for obvious Safe Guarding reasons.
If you have arranged for someone else to collect your child/children then please let us know via the Club Members/Parents WhatsApp group.
Dates and Times
Training will take place on Thursday evenings from 01st Thurs in June to the last Thursday in August.

Dates in Sept will be used if weather has caused delays in progress for assessments.
Evening sessions are from 18:30hrs til 20:00hrs
The club will operate a two week system as follows
Week A Groups taught by Andy S, Dave P and Tom M
Week B Groups taught by Amanda W and Mark S
Kit required
Sun Screen / Protection to be worn and applied.
It is mandatory that all members are required to wear a wet-suit – preferably a full length wet-suit during June. Without a wet-suit you will not be able to take part.
Wets suit boots
Warm Clothing
Warm Coat / Woolly hat are advisable (we don't want members getting cold after they exit the water.
Club Identification Kit (supplied by club)
Members will be required to wear a hi vis orange bib at all times during beach training sessions
Members will be required to wear an orange silicon hat during water activities.
Changing Area
We have very limited changing facilities so we recommend that members come dressed in wet-suits and wet-suit boots and go home in their wet-suits with a towel or dry robe type coat over the top.
Valuables
Unfortunalety we cannot accept repsonsibility for any valuables brought to the beach and as such recommend that none are brought.
We do have a small safe in in one of the garages should members want to leave a mobile phone in it, whilst they are training on the beach.
Weekly Go – No Go Checks on Wednesday Evenings
Due to the fact that Open Water Training Sessions can be adversly effcted by sea conditions and weather, the club will carry out weekly checks and will notify our membership on the club WhatsApp group on Wednesday evenings as to whether the session will go ahead or not on the Thursday evening.
If the Beach Training Session is cancelled, then normal we will fall back to our normal pool sessions and times at the Dolphn Pool.
Please keep an eye on teh club members WhatsApp group for the notifications.
Cancellations during Thursday
As is the nature of beach activities things can change very quickly, so even though we will R/A on the Wednesday evening and heopefully Give the Go Ahead, it may become necessary to cancel/amend the training during the Thursday, in which case Instructors will be notified, and they in turn will contact you via their own WhatsApp groups to ensure that you all get the message etc.
We can't ring or message every single person everytime, so please take the repsonsibilty of checking the WhatsApp groups for any notifications.
Medical Conditions
As current members of the club you should would have already declared any medical conditions that we as a club should be aware of However if you have not done so, or thinsg have changed then please update us with any relevant information ASAP.
Please also ensure that any medication needed – like inhalers / epipens are taken to the beach and the group trainers are made aware of where it is.
Weeks not at the Beach
The week that you are not rosterd at the beach beach you will be at the swimming pool.
Normal swim time sessions will remain at the Dolphin Swimming Pool.
Parental Help
We are desperate for Parents to help with each beach session as we cannot provide these sessions without you as there is a lot to organise – so please volunteer to Andy Smart so we can add you to the Parent Rota.
We would need a min of 5 per week to help else it will be come too much for 2 or 3 trainers to cope with. But more the merrier etc
The following is an idea of what we need help with.

looking after personal belongings in changing areas.
carrying boards/kayaks and other equipment to and from the beach.
washing kit down and putting away.
Assisting with members in general
Setting up gazebos

Potentailly, during school holidays, setting up a BBQ to have a burger and bun afterwards
The Parent Rota can be located at the top of this page.
---
---
---