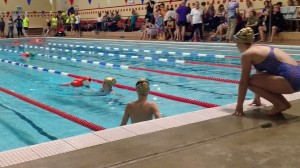 Bournemouth Lifeguards hosted the first of the 2016 Indoor Twilight Series on Friday 29th January at Stokewood Road. A great turn out from all the local clubs, leading to 96 competitors competing in total.
The event consists of mixed teams in Junior, Open, and Masters Categories. RLSS Poole fielded 2 x Junior teams and 1  x open team. We did not quite have enough present to field a Masters team as we were short of a female competitor.
All three RLSS Poole teams competed extremely well with the Poole B Juniors coming 2nd and the Poole A team coming 9th out of 13 teams. The Poole Open team came a respectable 4th out of 8 all though the points and position does not reflect correctly how close they were with the top three in each event.
So well done to all that took part, to Tim Harris for organising the RLSS Poole Teams and to Millie who kindly took part in the Boscombe Team
Poole A – Juniors:
Max Harris
Cathy A'Barrow
Evie Tipper
Ella Pope
Poole B – Juniors:
Louis Clayton
Lucy Tyler
Eryn Young
Eve Kennedy
Poole Open:
George Kennedy
Sophie Torok
Katie Crane
Hannah Ricketts