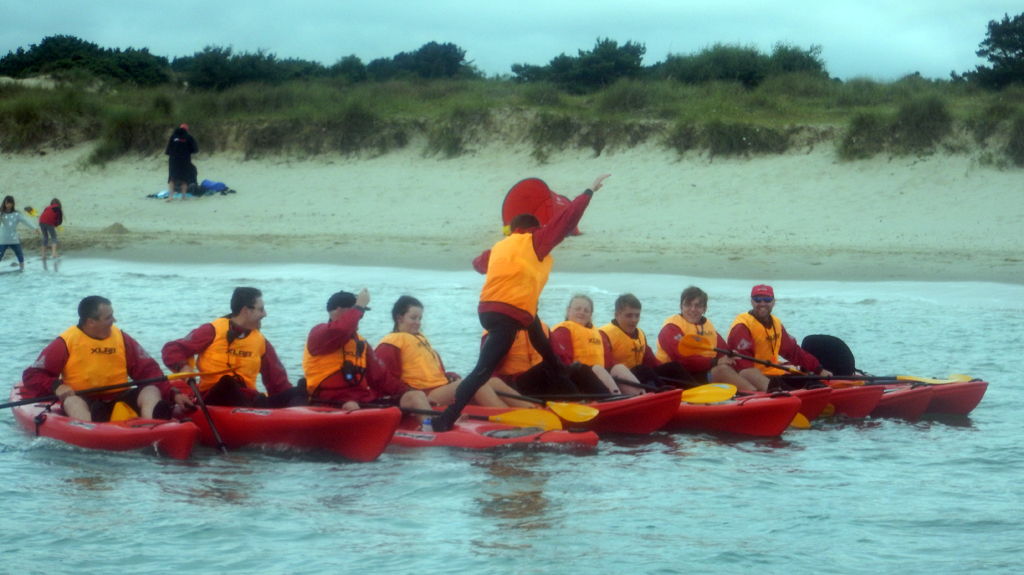 Our 4th Safety Cover event of the year so far took place on Sunday 3rd July at Knoll Beach – Studland for more than 200 swimmers taking to the water for the Annual Seahorse Swim organised by EDOWSC (East Dorset Open Water Swimming Club).
This time we were keenly aided by our neighbouring club Branksome Chine Surf Life Saving Club as well as RLSS Boscombe Lifeguards from the other side of Poole Bay who both came along with their Resceu Boats, paddlers and shore walkers.
Click on the photo below to see all 20 of them.
The course was a 2Km diamond shape using 4 turn buoys; this enabled the swimmers to either swim a 1 lap race – 2Km or a 2 lap race which was 3.8km.
To provide adequate safety cover for this event meant we needed 5 x Safety Boats, 18 paddlers and 4 Shore Walkers. This meant that we had a total of 32 volunteers forming the waterborne safety team.
The level of cover that we have become renown for, enables all the swimmers to feel very safe at all times around the course despite being at least 500m off shore at the most seaward point. This has been reflected by the number of positive comments via feedback received by EDOWSC and passed on to us.
The weather forecast leading up to the swim had been horrible all week and the organisers were thinking that they may have to cancel it at one point. But as the week drew to an end, the winds subsided, the rain stayed away and we ended up have very good conditions for the swim.
In total 201 swimmers took to the water and apart from a few that retired after lap 1 and one who got cramp, there were no incidents and judging by the smile on the face of the swimmers as they got out, they all thoroughly enjoyed themselves. So congratulations to EDOWSC on another very well organised event.
We are extremely grateful and appreciative to have such a good relationship with our fellow lifeguard clubs, because we know that without them, events like these would not be able to take place.
I would like to mention that we all really do appreciate everyone getting up at silly o'clock (05:00hrs) on a Sunday morning to make all this happen, even though some of the youngster are light weights and could not cope with the early start 🙂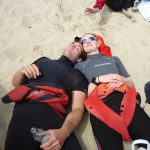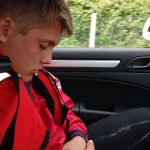 Thank You!
A huge thank you to all the volunteers named below for helping make this anoher huge success.
RLSS POOLE LIFEGUARD

Safety Boat 3
Louise Harrison
Poole Legacy
RLSS Poole
Crew
David Ayres
Poole Legacy
RLSS Poole
Safety Boat 5
David Riley
Poole Lottie
RLSS Poole
Crew
Brian Pemberton
Poole Lottie
RLSS Poole
Safety Boat 4
Dave Perch
Poole Apollo
RLSS Poole
Crew
Amy Perch
Poole Apollo
RLSS Poole
Paddler 13
Astrid Harris
Sit on Top Kayak
RLSS Poole
Paddler 15
Daniel Hart
Sit on Top Kayak
RLSS Poole
Paddler 12
Daniel Mulheran
Sit on Top Kayak
RLSS Poole
Paddler 16
David Cooper
Sit on Top Kayak
RLSS Poole
Paddler 17
Lara Moore
Sit on Top Kayak
RLSS Poole
Paddler 10
Lyndon Bye
Sit on Top Kayak
RLSS Poole
Paddler 18
Mark Shakles
Sit on Top Kayak
RLSS Poole
Paddler 11
Scott Bye
Sit on Top Kayak
RLSS Poole
Paddler 14
Tim Harris
Sit on Top Kayak
RLSS Poole
Paddler 7
Tom Nally
Sit on Top Kayak
RLSS Poole
Shore Walker
Julie Larner
Foot
RLSS Poole
Shore Walker
Malcolm Acreman
Foot
RLSS Poole
Shore Walker
Simon Moore
Foot
RLSS Poole

BRANSKOME CHINE SURF LIFESAVING CLUB – BCSLSC

Safety Boat 1
Anita Kovacs
Bransome Arancia
BCSLSC
Crew
Adam  Horvath-Juhasz
Bransome Arancia
BCSLSC
Paddler 5
Ian robinson
Board
BCSLSC
Paddler 4
Jil Challen
Board
BCSLSC
Paddler 6
Joe Holderness
Board
BCSLSC
Paddler 2
Laura Febery
Board
BCSLSC
Paddler 1
Mark Dixon
Board
BCSLSC
Paddler 3
Nick Oldridge
Board
BCSLSC

RLSS BOSCOMBE LIFEGUARDS


Safety Boat 2
Chris Grant
Boscombe Zulu
RLSS Boscombe LG
Crew
Alistair Brown
Boscombe Zulu
RLSS Boscombe LG
Paddler 9
John Wheeler
Kayak
RLSS Boscombe LG
Paddler 8
Tim Fudge
Kayak
RLSS Boscombe LG
Shore Walker
Janet Taylor
Foot
RLSS Boscombe LG