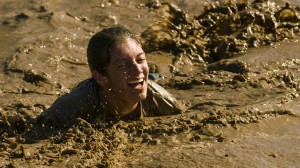 What on earth is the Fuddy Mud Sucker? you are probably asking, well it is a gruelling, muddy, and sticky run with 20 obstacles over a 5km lap or if that is not enough then 2 laps at 10km.
Slides, lakes, tunnels, mud pits, and a stream are just some of the obstacles you'll have to negotiate to get round – all of which are wet, or muddy, or both. The course includes running through dense woodland, 2 lakes, and a stream, not to mention various muddy obstacles that have been created to slow people down!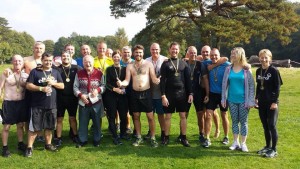 Maria McNally (who you may recall did a sky dive earlier this year in aid of RLSS Poole and in memory of her late husband Richard McNally), has been at it again, this time with 15 of Richard's work mates from the Royal Mail in Poole. The "Ricksters" entered this year's Fuddy Mud Sucker in October and completed the gruelling challenge in honour of Richard and raised £820 towards RLSS Poole Lifeguard as Maria had done earlier in the year. The Fuddy Mud Sucker takes place at YMCA Family Park & Campsite, Curdridge, Southampton, Hampshire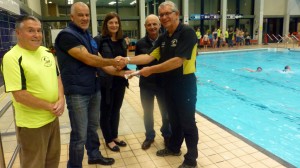 Maria and two of Richards work colleagues popped into the Dolphin Pool one of our club nights to present us with the money that they had raised.
We were very please to meet them and were able to take them onto the poolside so that they could see what the rookies in training.
We were also able to describe to them what the club does and give them an idea of where the money that they raised would go towards.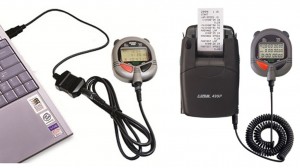 We are delighted to say that half of the money that they raised will go towards our very own stop watch and printer set, that we have wanted to purchase for several years now, to assist in making the processing of the Brownsea Swim Results a much more stream lined process.
This will allow us to reduce human error and writing times down and enable the results to be produce sooner.
All of this is great news and we would like to express our huge thanks and gratitude to the guys and girls from the Royal Mail- Poole who completed this event to honour the memory of Richard McNally and raise money for us at the same time – we really do appreciate it.
---