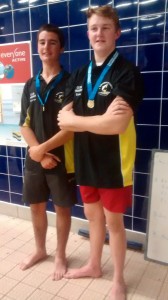 Sam Harrison, and George Kennedy recently competed at the RLSS -UK  Lifesaving Championships on Oct 31st 2015, which was held in the 50m Pool in Sheffield. This was as a result of winning the Branch Heats as well as the Southern Region Heats earlier in the year.
They competed as the Senior Boys team and took part in the following events.
Aquatic Initiative Test
Life Support Initiative Test
Line Throw
Swim & Tow
This was their 1st major competition and they put in  a great performance all round, but it was the Line Throw event that the pair excelled in and by winning the event became the 2015 RLSS-UK National Champions.
So a big well done to them both, the photos show them both wearing their Winners Medasl with pride on the poolside on a club night.