With the help of members from other clubs as well as our own, RLSS Poole LG hosted the 3rd PBCLSA Summer Twilight of the 2015 series. Close to 60 competitors turned out from our neighbouring clubs within the PBCLSA, Christchurch, Boscombe, Southbourne, Bournemouth, Branksome and of course our own members from Poole. Great fun was had by all, the weather held up and the sun came out in the closing hours of teh day to give a fantastic sunset to finish it all off.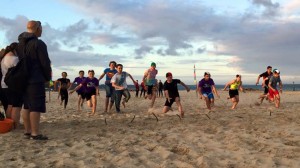 Thanks to Bournemouth Lifeguard Corps for popping over in their Arancias to provide the Safety Cover and to lay the course buoys.
Thanks as always to
Fiona Revill, Steph Andrews (RLSS-UK), Glenn and Lynne Cooper, Jenny Baker (Christchurch), Lyndon Bye, Amy Perch, Sophie Landsborough, Tim Harris, Mark Shakles and of course Not forgetting Sophie Torrock and Scott Bye for competing. Apologies if I have forgotton anyone.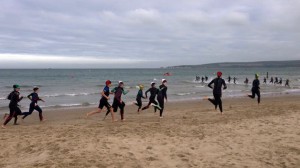 We really do need to get more members to come down to these Summer Twilights, they really are great fun and it is also great to see the PBCLSA at its best when all the clubs are meeting, competing, playing and just generally socialising with each other at these events.
The last of the 2015 PBCLSA TSummer Twilight Series takes place at "Solent Beach" Southbourne on Tues 18th August. Hopefully we will be able to see Southbourne Surf Life Savings Club's brand new headquaters that has just been built on the beach promende.
than you to Vicky Branston (Christchurch) for the Photographs