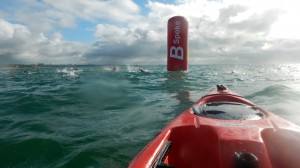 RLSS Poole were at it again bright an early on the morning  of 12th September at Sandbanks, although the weather was far from bright. It was dark, raining and blowing hard., and the sea was rough when we arrived at 05:45hrs. But as predicted as the early hours passed, all three boats were afloat, the Swim Buoys for the course were set, kayaks in place. Branksome SLSC joined us with their Arancia and 5 people on boards and all by 08:00hrs, said it was an early start.
By the time the Safety Brief was concluded, attended by the British Red Cross, we were all set to spring into action and provide the Safety Cover for the BSpoke Events – Poole Swim scheduled to start at 08:3ohrs.
148 swimmers started the event, which consisted of 3 distances to choose from.
1 lap = 750m;   2 laps =1.5km;    and 4 laps being 3.0km.
Although the wind continued to blow hard, with some challenging gusts, it's direction changed as forecast and the sea flattened to a moderate chop.
This meant that a number of swimmers  found the conditions extremely tough as they were not used to sea swimming, because they had travelled down from places like London and other land locked cities and towns.
Still not to be out done all but one completed the event and there were smiles all around at the end.
John Lunt founder of BSpoke Events was thrilled with event and has passed on his sincere thanks to all of our members who helped with the safety cover and setting up of the course.
As always huge thanks to the following for their assistance:
From RLSS Poole Lifeguard
LEGACY        James Marsh, Brian Pemberton
LOTTIE        Simon Moore, Thomas Nally
APOLLO       Dave Perch, Lara Moore, Jake Perch
KAYAKS        Mark Shakles, Sam Harrison, Tim Harris, Malcolm Acreman, Astrid Harris, Lyndon Bye, Scott Bye, Glenn Cooper
SHORE        Julie Larner, Irene Pemberton
From Branksome SLSC    
ARANCIA    Anita Kovács, Ádám Horváth‐Juhász
BOARDS    Becky Turner, Gordon Turner,  Jill Challen, David Trehane
A short clip of some of the Safety Cover team
(apologies for the poor video with the water droplet obscuring most of the lens.)