Brownsea Swim

Event Date:   2020 tba.


Start time:     tba.




Fee:                 tba.
Held in the Spirit of Self Belief and Madcap Adventure started by the few who wondered if they could "Swim Around Brownsea Island" – Not so much a race but a voyage of discovery!
Brownsea Swim – General Info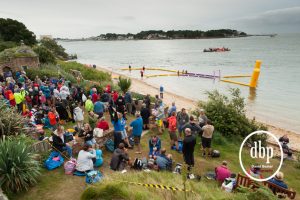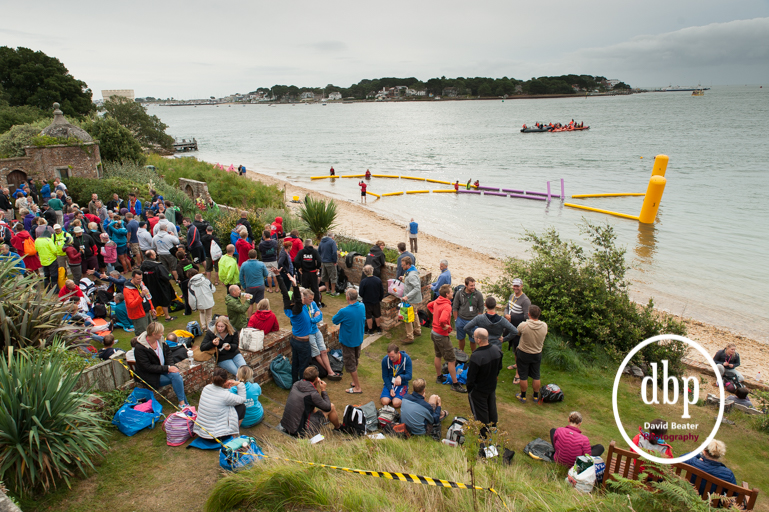 REGISTRATION
From 06:00hrs at our club HQ at Sandbanks beach (in the main car park).
ENTRY FORMS:
Will go On-Line in March 2019
So just keep an eye on this website to find out when.
Swimmers who entered the previous year's swim will also receive an email notification reminding them that the Entry Form will be going live and a message will also be posted in our Brownsea Swim Facebook Group.
ENTRY PROCESS:
Entry to the swim is via a 2 stage process as follows:-
Stage 1:- Complete and Submit the Online Entry Form. You will get an email to acknowledge receipt of your entry form.
Stage 2:- A "Swimmers Briefing Pack" will be emailed to all successful applicants 4 weeks prior to  the swim date. This will include swimmers instructions, safety instructions and all relevant information for you to enjoy your swim with us.  Note: Swim No's and places are strictly non transferable as this poses safety issues.  As an entrant it is your responsibility to ensure you  read and understand the Swimmers Briefing Pack.
WHAT YOU GET:
A Ferry trip to and from the Island and free entry onto the island for swimmers.
A Brownsea Island Swim memento for all swimmers successfully completing their category.
A Brownsea Swim Challenge T-shirt. (Be sure to indicate the size you require on your entry form).
Plaques will be awarded to the 1st three places in each category.
At the finish: hot soup and bread roll freshly made by the kitchens of the Brownsea Island Castle.
WILD SWIMMING EVENT
As a Wild Swimming event you are reminded that it is your responsibility to navigate your own course around the Island. Paddle craft are there for safety reasons only and to encourage you around the island; they are not there to guide you and therefore should not be relied on to do so.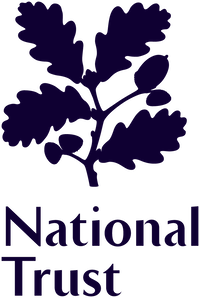 PARTNERING WITH THE NATIONAL TRUST
We're working closely with the National Trust to help engage more people with Brownsea's marine environment and to support the island's vital conservation work.
Our aim is to eliminate single use plastic from the swim and to donate a percentage of the money raised through ticket sales towards the purchase of a new (live streaming) underwater camera.
RLSS POOLE LIFEGUARD
May we point out that RLSS Poole Lifeguard are an entirely voluntary lifeguard club, and also a charity in our own right. If you are undecided about which charity to raise sponsorship for, then we would love it if you were to choose us. To make life easier you can find us on the Just Giving Website. (see Sponsorship Details form more info)
ENTERING THE EVENT
As an entrant it will be your responsibility to read all the information made available to you. If you have any questions or queries after reading the information, then please email us at the email address shown below. We will endeavour to answer your questions soon as possible.
SPECTATORS
Further Details can be found on the Brownsea Swim – Spectator Info page .
FURTHER QUESTIONS
send an email to: brownseaswim2019@rlss-poole.org.uk
Brownsea Swim – Conditions of Entry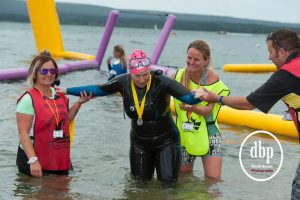 SWIM PLACES
Swim No.s and/ or places are strictly NON Transferable and NON Refundable once they have been allocated.
Places are limited.
MINIMUM AGE:
The minimum age for the swim is set at 14 years old on the day of the swim.
CLOSING DATES:
The Closing Date for entries is the 1st May or before if the maximum number of 300 swimmer is reached.
CUT OF TIMES:
Over the years we have determined that the safe maximum times to complete both the Full Distance and Half Distance swim in both Wetsuit and Non Wetsuit Categories are as follows:
Full Distance Swim = 180 minutes.
Half Distance Swim = 120 minutes.
Any swimmers still swimming after these times will do so at the discretion of the Safety Officer and his or her Safety Crew.
(For info: the average swim time for the full swim is approx 2hours).
CHANGE OF CATEGORY:
There will be a £5.00 surcharge for late entries or for any changes made. Entries or changes are NOT permitted on, or up to 14 days before the event. Late Entries (if available) will also incur a £5.00 additional charge.
SAFETY OFFICER AND CREW:
The Safety Officer and his/her Safety Crew has the right to remove swimmers from the water at any time from the start of the swim on grounds of safety.
ENTRY FORM DECLARATION:
You declare that you are aware of the risks inherent with open water swimming and that you are able to swim in open water in varying conditions and are confident in your ability to complete the distance required.
You undertake to train and take part in this event at your own risk and hereby waive any and all rights to claim for loss or damages against RLSS Poole Lifeguard or individuals officiating, organising or supervising the Brownsea Island Swim arising out of your participation in the event, for any injury (including death), illness, and accident to your  person, or loss of property resulting from any cause whatsoever.
DAY OF THE SWIM DECLARATION:
By completing the registration process on the morning of the swim, you declare yourself to be both healthy enough and physically able to complete the category/challenge that you have entered: without presenting undue risk to yourself, your fellow swimmers or any members of the event marshals / safety cover.
You also accept responsibility for any personal belongings that you take to the Island, whilst not inside the baggage tents during the swim.
As an entrant, you are also reminded that you have a choice on the day of the swim as to whether you enter the water or not, and that you do so at your own risk. RLSS Poole Lifeguard and our associates undertake to provide safety cover for the event and will do so in an organised, safe and controlled manner.
CANCELLATION:
RLSS Poole Lifeguard reserves the right for whatever the reason, although mainly due to safety concerns, to cancel or vary all or any part of the event before and /or during the event.
SPECIAL RESTRICTIONS:
Spectators are NOT ALLOWED on to the Finish Beach. This is Private Property and belongs to the Brownsea Castle. Failure to comply with this will jeopardise the use of this facility and therefore the event in future years. The 1st public ferry arrives on the island at 10:hrs.
WILD SWIMMING EVENT:
As a 'Wild Swimming' event you are reminded that it is your responsibility to navigate your own course around the Island. Paddle craft are there for safety reasons only and to encourage you around the island, they are not there to guide you and therefore should not be relied on to do so.
ASSOCIATION WITH OTHER BODIES:
This event is not linked or held under the British Long Distance Swimming Association, the British Swimming & Amateur Swimming Association or the Channel Swimming Association Ltd rules. It is not a qualifying swim for any of these Associations
Brownsea Swim – Definitions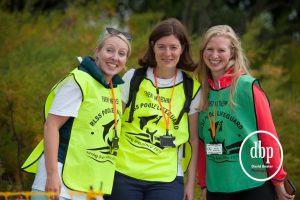 FULL / HALF DIST CATEGORIES:
Full Distance:
Starts and Finishes at the Castle Beach
Approx. (6.5Km) or (4.0miles)
Half Distance: (NEW)
Starts at the Maryland Beach, near Pottery Pier, and Finishes at the Castle Beach.
Approx.(3.2Km) or (2.0miles)
The Half Distance Category will start approx 60 mins after the main start. Swimmers will be ferried to the Half Swim Start Point by boat.
The Half Swim will finish on the Castle Beach with all the full distance swimmers.
Once the swim has started:
Any Swimmer failing to finish at the Castle Beach will be marked down as "DNF" –  did not finish.
TIDAL ASSISTED:
The start of the swim is always timed such that swimmers have approx 1 hour of swimming anticlockwise around the Isalnd before High Tide, at which point the tide changes direction and assists the swimmers down the back half of the Island to the finish line.
DEFINITION OF NON WETSUIT SWIMWEAR:
Any deviations from below will be classed as a Wetsuit Category Swim
Men: a one piece brief or shorts style with leg cover not below mid thigh.
Ladies: a one piece or two piece style with no arm cover and no leg cover below mid thigh
These will not have any positive buoyancy or be insulating against the cold.
WETSUIT GUIDELINES:
Any wetsuit style is permissible but it is recommended that the thickness does not exceed 5.0mm. A smooth finish wetsuit is preferable over a nylon finish wetsuit. 5.0mm thick wetsuits have greater warmth and buoyancy than 3.0mm wetsuits. Wetsuit swimming is considerably quicker than non wetsuit swimming.
NON WETSUIT OR WETSUIT SWIM?
An overview to help you choose
Non Wetsuit Swimmers
1) A non wetsuit swimmer has no insulation against the cold water or positive buoyancy advantage
2) This is a more demanding but Pure way of taking part in this long distance swim.
Wetsuit Swimmers
Wearing a wetsuit has two main advantages
1) Provides the swimmer with insulation against the cold water
2) Provides the swimmer with positive buoyancy
SWIMMING AIDS.
Hi Vis Tow Floats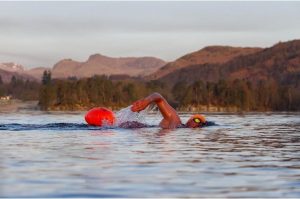 1) We do not encourage the use of these floats because we feel that the reason people have for wanting to use one, are negated by the fact that our swim hugs the shore line of the Island. We have 3 layers of Safety Cover preventing public marine traffic from mixing with the swimmers and, we also have a minimum of 50 paddle craft so the visibility aspect is also negated.
2) Tow Floats are not designed or sold as Safety Aids to prevent drowning but as a  means of carrying kit and for aiding visibility of the swimmer from the land and or affloat. Therefore point 1 refers:
3) An interesting article on the For or Against views on these Tow Floats can be read on the "Out Door Swimming Society" web page found at the following link.
http://www.outdoorswimmingsociety.com/news/514-the-great-tow-float-for–against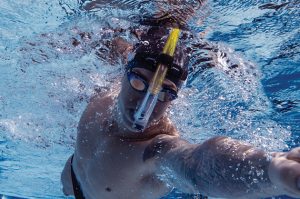 Snorkels
Only Swimmer's Snorkel will be allowed
Dive Snorkels will not be permitted
1) If you have a need to use a snorkel and it does not gain you an advantage then snorkels designed for swimmers will be allowed.
2) Swimmer Snorkels allows swimmers to focus on stroke technique without the interruption of turning the head to breathe. A silicone purge sea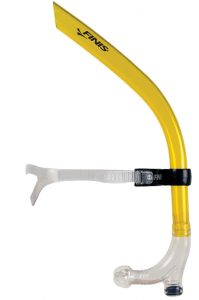 t allows water to flow out of the snorkel without entering the mouthpiece.
3) The center-mount design accommodates a full range of motion for freestyle. Eliminating the need to breathe allows swimmers to relax in the water, maintain body alignment and improve stroke efficiency.
4) We do ask that you inform us, so we are aware.
Brownsea Swim – Maps
Click on the images below to view larger versions.
ROUTE MAP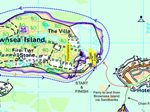 This map shows the location of the Swim Registration, the route to walk to get to boarding point for the Ferry trip across to Brownsea Island. This map also shows the routes to swim for both the full and half swim as well as the Start and Finish locations for both swims.
SWIM BEACH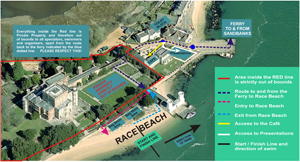 This map shows where the ferry arrives  on the Island and the short route to walk to get to the swim beach. It           quite clearly identifies the castle grounds which are private property  and out of bounds. It also shows the presentation area in the National Trust Cafe.
SWIM DIRECTION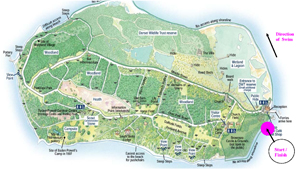 This map shows the map of the Island for your own guidance around the island.  This map also shows the pathways that spectators are allowed to follow. Wandering off these paths is strictly forbidden.
Tip:  for best viewing: click on the above icons, then ensure you maximise the new window that is opened.
Brownsea Swim – Spectator Info
Please note that spectators are not allowed into the Brownsea Castle Grounds and as such they will not be able to see you finish your swim.
The Castle and its grounds are Private Property and are owned and run
by the John Lewis Partnership as a hotel with paying guests; we are privileged and honoured to be allowed the use of their beach for the swim.
Please ask all spectators to respect this request so that we do not lose the use of these wonderful facilities.
If Spectators ignore this request, then they stand to jeopardise the future of the swim for everyone.
Presentations will take place in the grounds of the Villano (cafe)garden.
Note:
There is no advance booking of tickets, they will only be available on the morning of the swim on a 1st come 1st serve basis at the yellow ticket office adjacent to the Chain Ferry.
Spectator Tickets will be in two parts as follows:
a) Ferry Tickets:
The only way to purchase your ferry ticket is to buy them from the yellow ticket office, alongside the Chain Ferry. This Ticket Office will be open from 08:00 hours on the morning of the swim.
They will only take cash.
09:20hrs 1st Ferry (approx!)
£7.00 Adults (return trip) (cash only):
£0.00 Children (under 16)
b) Island Entrance Tickets:
These need to be purchased from the NT Reception once you land on the island.
Cards or cash can be used for transactions.
Adults, £7.50
2 x Adults and up to 3 Children £18.75
Children (5 -16 years)  £3.75
(under 5 years) Free
1 x Adult and up to 3 Children £11.25
National Trust Members: Free
SPECTATORS RETURN JOURNEY
When you purchase your spectator ferry ticket you will be given a coloured wrist band, which will identify you as a Brownsea Island Swim Spectator.
You will need to:
1. Show to board the Spectator Ferry on the way to the Island
2. Show at the NT reception on the island to entitle you to group rates.
3. Show to enable you to board the return Ferry.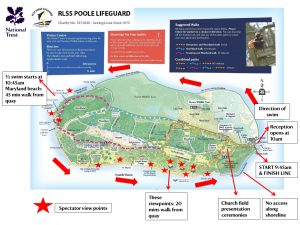 Brownsea Swim – Camping Weekend
Brownsea Swim – Challenge T-Shirt
Brownsea Swim – Traditional Polos/T-Shirts
Brownsea Swim – Sponsorship
RAISING SPONSORSHIP
As a completely voluntary club and charity, we are very aware that people are more passionate about raising sponsorship for charities that are close to their heart or that have some meaning to them.
Last year (2017) a total of £27,764.29 was pledged by swimmers for local and national charities as a result of sponsorship gained by entering this event. This brings the grand total generated to a large number of charities, by the Brownsea Island Swim, to just approx £151,955.21.
To continue this fantastic opportunity we would like to encourage all swimmers to raise sponsorship for a Charity of your choice no matter how small the gesture is.
ALL THAT WE ASK
All we ask is that you inform us of your chosen charity and on the day of the swim inform us of how much you have raised for your chosen.
We have provided some sponsorship forms and pledge forms for you to use, we ask that you submit them on the day of the swim, this will enable us to keep a tally of the charities benefiting from your efforts and the amount that the swim raised in total.
If you are at a loss as to which charity to choose!
Then why not support our club?
We would love it and would really appreciate it, should you decide to choose RLSS Poole Lifeguard as your chosen charity.
RLSS Poole Lifeguard is an entirely voluntary lifeguard club, and exists purely on fundraising activities. We are also a charity (see our charity number at the top of the page)
On average we get approx £2500 from the proceeds which helps towards the running costs of the club and its annual overheads. Please take some time to look at the club website to see what we do and how we do it.
We have been organising this event annually since 1991 for a number of reasons, least of all:-
1) it is a great event and you (the swimmers) all seem to thoroughly enjoy it, and keep coming back.
2) we use this event as our main fundraising activity each year to raise money for the club.
This link below shows a list of the Charities that benefited from the £21338.23 that was raised by swimmers from the 2016 Brownsea Swim Event.
Name of Charity
Sponsor Amount
Name of Charity
Sponsor Amount
All of these Charities will benefit from money raised by swimmers in 2017
5th Caterham Scouts
£312.50
MyTime
£200.00
Ashgate Hospice
£650.00
PALS
£60.00
Brads Cancer
£340.00
Pancreatic Cancer
£825.00
Bristol Childrens Hosptial
£10,000.00
Place 2 Be
£110.00
British Heart Foundation
£765.00
Poole Hospital
£100.00
Cancer Research Uk
£740.00
Poole Hospital Children's Wards
£815.00
Docbike
£500.00
RLSS Poole Lifeguard
£696.41
Endometriosis Uk
£1,200.00
RNLI
£50.00
Forest Holme
£545.00
SANDS
£1,500.00
Jubilee Sailing Trust
£100.00
Save The Children
£50.00
Julia House
£1,600.00
Scullies Place
£240.00
Lewis Manning Hospice
£2051.38
Smile For A Child
£745.00
Macmillan Caring Locally
£330.00
Teenage Cancer Trust
£59.00
Mcmillan Cancer Support
£810.00
To Be Advised
£10.00
MDS Patient Support
£500.00
Winchester Special Care Baby Unit
£830.00
Dorset And Somerset Air Ambulance
£30.00
Friends of Hamworthy Park "Save the Paddling Pool'
£1,000.00
Total Raised by Brownsea Island Swim 2017 = £27,764.29
The total raised by the swim since 2009 is a massive £151,955.21
Brownsea Swim – Donate to RLSS Poole
---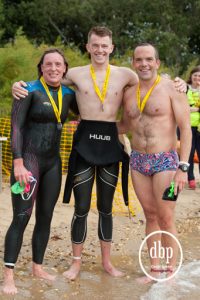 FURTHER QUESTIONS
Join the Brownsea Swim 2019 Facebook Group to keep informed of Details, News and Activity as well as getting answers to any questions you might have.
You can also keep in touch with fellow swimmers and take or give advice as you so wish

www.facebook.com/groups/brownseaswim2019/
OR
send an email to: brownseaswim2019@rlss-poole.org.uk
---