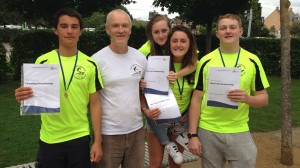 A GREAT result at the RLSS Southern Regional Lifesaving Championships – A well deserved 1st place for both our senior boys and senior girls pairs.
This means that both teams have now progressed through the 'RLSS Wessex Branch Competition'. Won the RLSS Southern Region Competition and now go onto represent the RLSS Southern Region at the RLSS-UK National Life Saving Championships which will be held at the 50m Ponds Ford Swimming Pool in Sheffield on 31st October
So a huge congratulations to:
Senior Girls Team : Sophie Torok, Emma Marjason,

Senior Boys Team Sam Harrison, George Kennedy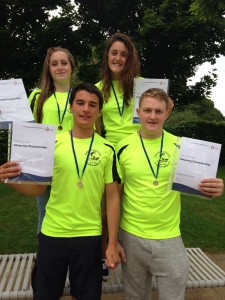 The Lifesaving Championships are designed to:
"Lifesaving Championships (Nationals) helps to promote the skills, knowledge and techniques of lifesavers. This competition plays an important role in spreading the drowning prevention message to a wider audience, increasing participation and challenging lifesavers to develop their skills.
The competition attracts lifesavers of all ages, from all regions and brings them together in the mutual pursuit of excellence. Each participant has the knowledge and skills to help prevent drowning and promote an active and healthy lifestyle through lifesaving activity."
Click here for information relating the National Lifesaving Championships