The road to this year's RLSS UK National championships began on a sunny October afternoon in Dorchester.
To qualify and represent the Southern team, you need to win the Southern Regional competition against teams drawn from across the Wessex region in the West, to Thames valley in the North and East and as far South as the Channel Islands.
A team of 8 assembled to represent RLSS Poole
Scarlett-Lilly Williams and Archie Snook led the way in the junior mixed pairs, with Oliver Heckford and Brody Wyatt battling it out alongside team-mates Connor Sullivan and Ethan Pilley in the senior pairs.
Emma Marjasson carried Poole's hopes in the Ladies individual competition with Tom Nally in the Men's
The competition comprises 4 events, kicking off with a life support initiative, a 90 second test of your first aid skills in a dry scenario before moving to the pool. Beneath the judges watchful eyes, an aquatic 90 second initiative follows with multiple casualties to prioritise, manage and rescue. Next up is the test of nerve and skill which is the rope throw, and finally there is a swim and tow.
For the scenarios, each club is required to bring along at least one casualty.
Emma Heckford stepped up to represent the club in this role, enjoying an up close and personal perspective of the aquatic scenario. No doubt, lessons learned will push Emma towards representing the club in future competitions
Following a fiercely contested competition, in which all of our team members excelled, Scarlett-Lilly and Archie Snook emerged victorious in the junior pairs, with Tom and Emma winning through alongside them. It was a case of what might have been in the senior pairs with both Ethan and Connor (2nd) and Oliver and Brody (3rd) narrowly missing out.
This meant we would have 4 members of RLSS Poole moving forward to as debutants to represent the Southern region at the National finals in Leeds on November 5th.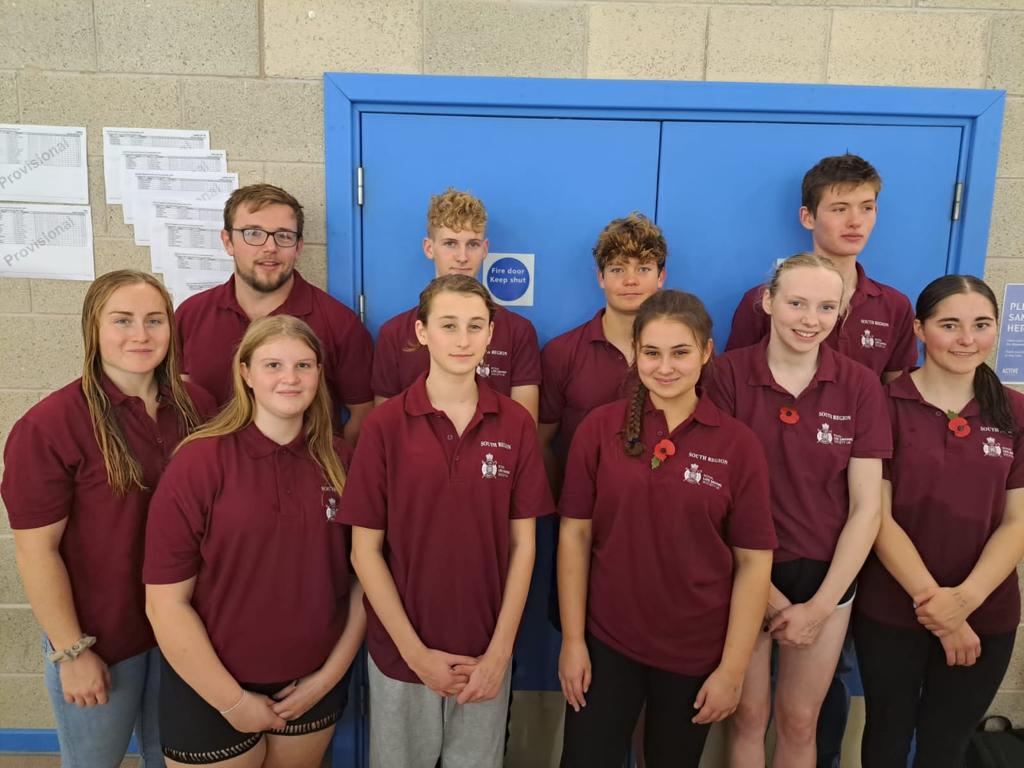 7:30am on a wet and windy morning we assembled at the John Charles sports centre.
Beneath a packed gallery, full of friends, family and supporters, a team of 12 led by manager Pam Oddy proudly marched, carrying the flag of the South region around the 50m Olympic sized pool perimeter.
Teams from Scotland, Wales, all Ireland, and 9 other English regions joined them, making a grand total of nearly 200 competitors in all.
The format for the Nationals is the same as for the regionals, and volunteering to represent the South as a casualty was Dylan Hall. His mum and our very own RLSS Poole Chair, Amanda Wise-Hall doubled up as both a first aid scenario casualty before time keeping in the pool events.
The standard at the finals is a considerable step up from the Regionals, and whilst hopes were high, there was also a realisation that top performances would be required from our competitors. They did not disappoint, and after a long and tiring day of competition, Tom finished in a credible 12th place in the men individuals, with Emma pushing her way up to 8th in the Ladies event.
The nail-biting conclusion was left to our mixed junior pair however, pushing it all the way before agonisingly missing out on a podium finish by a mere 2 points.
A debut 4th place remains however a fantastic result. Alongside the rest of the team, including an impressive 1st place from the senior girls, the South Team was pushed up to 6th placed overall, the best finish for many years.
It was a great day out for all involved, and thanks go to RLSS UK for organising the competition, for all of the officials and volunteers, for the parents and family members who got our team members there and of course to our competitors for stepping up to be part of a great and enjoyable event.
In recognition of their success, certificates were presented to our finalists alongside all of our competitors by Southern Ambassador Jill Bailey at our last RLSS Poole training session.
Next up the Twilights!