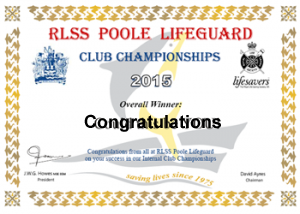 Another good turn out at this years RLSS Poole Lifeguard Internal Club Championships, with everyone doing really well and thoroughly enjoying themselves.
The Aim of the Competition:
To engage all members of our Club, in a test of knowledge, skills and sport. It is open to all members, and each competitor will be competing against his or her peers. At the end, an overall Club champion will be crowned
Congratulations: to the top 3 places in each category as shown below, but also a big congratulations to all those who took part, you are all winners: Many thanks also to all those who helped on the evening as marshalls / time keepers etc.
Click on the following link to view all  the results for, both Overall and by Category: 2015 ICC Results
Overall Positions
1st Mark Shakles
2nd George Kennedy
3rd George Vincent
Under 12s
1st George Vincent
2nd Eve Kennedy…
3rd Cathy A'Barrow
Under 15s
1st George Kennedy
2nd Hannah Ricketts
3rd Rupert Parkin
Seniors/ Open / Masters
1st Mark Shakles
2nd Thomas Krum
3rd Lang Parkin