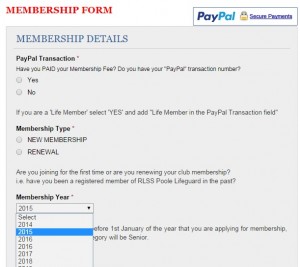 We are now near the end of February and some people have not renewed their membership, so please do it now so you are covered to swim,thank you.
The fees are staying the same (bargain ).
Just visit the membership section of this website, then select 'membership form .
Remember to pay  your membership fees first via PayPal and also select the 'Renewal' Option. It just couldn't be easier so you can start renewing in December  and get it out of the way, one less thing to worry about.
Happy Christmas.
2015 Membership Fees click here for more details
Category
Full Year
If Joining between
01st Sept - 31st Dec
Senior Membership
£40.00
£20.00
Junior Membership
£30.00
£15.00
Supporter Membership
£20.00
£10.00
Family Membership
£75.00
£40.00
NOTE I :
Family Membership: is purely a financial package made up of 3 or 4 club members living in the same household as described below.
2 over 18yrs and 1 under 18yrs
1 over 18yrs and 2 under 18yrs
1 over 18yrs and 3 under 18yrs
0 over 18yrs and 3 under 18yrs
NOTE II :
Full Time Education: Anyone over the age of 18 who is in full time education, qualifies for a reduced annual membership fee. Simply apply and pay for full Senior Membership. Once you have received an email confirming your membership application, forward it, along with proof that you are in full time education to: treasurer@rlss-poole.org.uk A refund will be arranged thereafter. Please note that you will have 30 days in which to apply for your reduced membership fee from the date of your original membership application to enable a refund to be made. For further info send an email to membership@rlss-poole.org.uk