Brownsea Swim – Maps
Click on the images below to view larger versions.
ROUTE MAP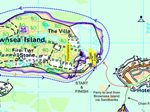 This map shows the location of the Swim Registration, the route to walk to get to boarding point for the Ferry trip across to Brownsea Island. This map also shows the routes to swim for both the full and half swim as well as the Start and Finish locations for both swims.
SWIM BEACH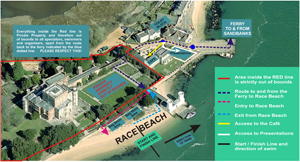 This map shows where the ferry arrives  on the Island and the short route to walk to get to the swim beach. It           quite clearly identifies the castle grounds which are private property  and out of bounds. It also shows the presentation area in the National Trust Cafe.
SWIM DIRECTION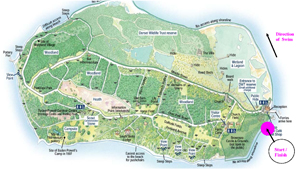 This map shows the map of the Island for your own guidance around the island.  This map also shows the pathways that spectators are allowed to follow. Wandering off these paths is strictly forbidden.
Tip:  for best viewing: click on the above icons, then ensure you maximise the new window that is opened.