Brownsea Swim – Definitions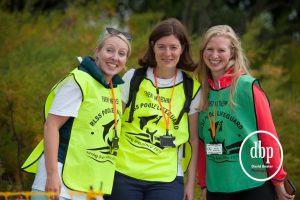 FULL / HALF DIST CATEGORIES:
Full Distance:
Starts and Finishes at the Castle Beach
Approx. (6.5Km) or (4.0miles)
Half Distance: (NEW)
Starts at the Maryland Beach, near Pottery Pier, and Finishes at the Castle Beach.
Approx.(3.2Km) or (2.0miles)
The Half Distance Category will start approx 60 mins after the main start. Swimmers will be ferried to the Half Swim Start Point by boat.
The Half Swim will finish on the Castle Beach with all the full distance swimmers.
Once the swim has started:
Any Swimmer failing to finish at the Castle Beach will be marked down as "DNF" –  did not finish.
TIDAL ASSISTED:
The start of the swim is always timed such that swimmers have approx 1 hour of swimming anticlockwise around the Isalnd before High Tide, at which point the tide changes direction and assists the swimmers down the back half of the Island to the finish line.
DEFINITION OF NON WETSUIT SWIMWEAR:
Any deviations from below will be classed as a Wetsuit Category Swim
Men: a one piece brief or shorts style with leg cover not below mid thigh.
Ladies: a one piece or two piece style with no arm cover and no leg cover below mid thigh
These will not have any positive buoyancy or be insulating against the cold.
WETSUIT GUIDELINES:
Any wetsuit style is permissible but it is recommended that the thickness does not exceed 5.0mm. A smooth finish wetsuit is preferable over a nylon finish wetsuit. 5.0mm thick wetsuits have greater warmth and buoyancy than 3.0mm wetsuits. Wetsuit swimming is considerably quicker than non wetsuit swimming.
NON WETSUIT OR WETSUIT SWIM?
An overview to help you choose
Non Wetsuit Swimmers
1) A non wetsuit swimmer has no insulation against the cold water or positive buoyancy advantage
2) This is a more demanding but Pure way of taking part in this long distance swim.
Wetsuit Swimmers
Wearing a wetsuit has two main advantages
1) Provides the swimmer with insulation against the cold water
2) Provides the swimmer with positive buoyancy
SWIMMING AIDS.
Hi Vis Tow Floats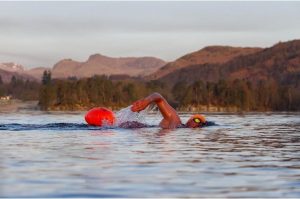 1) We do not encourage the use of these floats because we feel that the reason people have for wanting to use one, are negated by the fact that our swim hugs the shore line of the Island. We have 3 layers of Safety Cover preventing public marine traffic from mixing with the swimmers and, we also have a minimum of 50 paddle craft so the visibility aspect is also negated.
2) Tow Floats are not designed or sold as Safety Aids to prevent drowning but as a  means of carrying kit and for aiding visibility of the swimmer from the land and or affloat. Therefore point 1 refers:
3) An interesting article on the For or Against views on these Tow Floats can be read on the "Out Door Swimming Society" web page found at the following link.
http://www.outdoorswimmingsociety.com/news/514-the-great-tow-float-for–against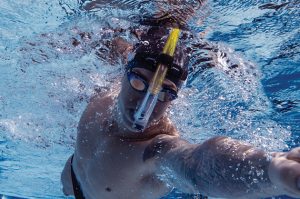 Snorkels
Only Swimmer's Snorkel will be allowed
Dive Snorkels will not be permitted
1) If you have a need to use a snorkel and it does not gain you an advantage then snorkels designed for swimmers will be allowed.
2) Swimmer Snorkels allows swimmers to focus on stroke technique without the interruption of turning the head to breathe. A silicone purge sea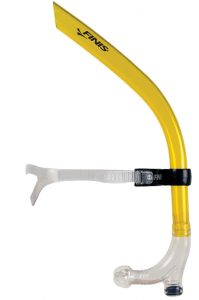 t allows water to flow out of the snorkel without entering the mouthpiece.
3) The center-mount design accommodates a full range of motion for freestyle. Eliminating the need to breathe allows swimmers to relax in the water, maintain body alignment and improve stroke efficiency.
4) We do ask that you inform us, so we are aware.