Brownsea Swim – Camping Weekend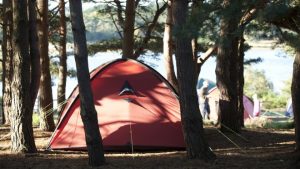 The National Trust are again offering a new public camping called Eco Adventure Camping, where you get to experience the beautiful tranquillity of Brownsea Island out-of-hours.  'Eco Adventure' is for confident campers and nature lovers.
You can use the public boat service to get to the island and then walk across to the campsite (20-30 mins), or those of you opting to kayak, sail or paddle straight to South Shore are also welcome!
Camping Weekend:

For the nights of 28th  – 30th July, the National Trust are offering a discounted/'swimmer's' rate for participants of the Brownsea Island Swim and their family/friend group.
Adult – £17.00
Child – £10.50
Option to hire tents if you wish but the NT  encourage you to bring your own.
Boats
The last public boats to the island depart from Poole Quay and Sandbanks at 4:30pm.
For the swim only, we have allocated a limited number of late arrival places on the private National Trust boat service departing hourly from Sandbanks.
This is charged at the same rate as the public boat service (£3.25 Adult / £2.50 Child single ticket).
For swimmers your return trip on 29th is included with your swim.
Facilities
Toilet and shower blocks
Washing up area and drinking water taps
Mobile phone charging point
Access to a communal sheltered cooking station and dining area: gas burners (incl. gas), cooking pans and utensils, tables and benches will be provided are included in the camp fee.
You can bring your own tent or hire one as an optional extra. We have a limited number of hammocks and tree tents we hire out on a first-come-first-serve basis. This is not a 'glamping' option – members of the team can assist if necessary but you need to erect tents yourself.
Things to be aware of…
Brownsea Island has 'SSSI' status – it is important that public use of the campsite does not conflict with our values and conservation status.
For this reason open fires are NOT permitted on the

campsite

There are no shops on the island so you must bring all supplies with you.
Bookings:
Swim Registration

You will need to inform the swim organiser that you will be camping on the island so as to include you in the 'ON ISLAND' Registration.
Registration for those swimmers that are camping on the island will take place at 08:15hrs under the Clock Tower by the black gate entrance to the Castle.
Failure to Register in time will prevent you from taking part in the swim
Further details:
Any further questions re camping please contact – the Outdoor Centre business support.